"QUANTUM SHOT" #685
Link - by Avi Abrams



The Funniest Moments from the Military All Over the World

Thinking of military, weapons and wars, we usually imagine serious, life-threatening conditions, pain, hurt and danger. All the more precious then, are the rare moments of humour and even hilarity - during the drill, in the field, and even in combat. This is a long-overdue celebration of life's lighter side in the middle of these harsh realities.

Don't miss the previous parts: Life in the Military, Awesome Military and Police Can Be Intense (Funny Pics).

Preparing kids for the army, from the very start:




Special forces personnel (from left to right) from Hungary, Macedonia, Romania, Croatia, Ukraine, Poland and Sweden - during the joint military exercises in Croatia:




These guys mean business: Special Military Unit from India -



(image via)

Nazi soldiers look a bit clueless in this picture:




Extreme Off-Roading:




Oh no. Please, don't -




The Ultimate Texas Chainsaw Massacre Bayonet Weapon: well, yes, this is indeed a chainsaw bayonet strapped to the AR-15 rifle:



(image via)

These boots were made for walking: minefield sandals and metal detectors -




Another mine detector: Russian police has a sort of R2-D2 at their disposal -



(image via)

This one is fittingly called Wall-E:




Customized Hummer with a great hill-climbing ability in the snow:




You gotta do what you gotta do: when the cannon needs cleaning -




...when the sheep needs transporting:




A spade gun:




A couch:




Have some rusted military equipment? Turn it into a kids' playground:




Extreme view from the inside:




-----

Colorful Military Personnel from All Over the World

The Peruvian Army:



(image via)

China, or Korea? -




The guy on top is looking at you... Pakistan military formation:




Some seriously-minded personalities from Somali and Sudan:




Military in Africa: note the wooden DIY rifle (left picture) -




Dancing with Kalashnikoff: a military unit from Gaza -




-----

Military Pastime and Hobbies

Energy drinks? -




Chinese Military Choir:



(image credit: AP Photo)

Time to rest - aboard Russian military vessel "Novorossiisk":



(image via)

Time for a picnic - and a smoke:




Making the Eiffel Tower (left) and an entirely different sort of tower (on the right):




The right kind of attention:




And now this... actually very sad picture, and really poignant: a Russian soldier tries a melody on a piano left behind in a ruined Grozny park -



(image via)

-----

The End of the "Tank Bling"

We wrote about Pink Tanks before, but this time - the poor blinged-out pink monster has been sawed in half and partly buried:



(image via)

This is actually the monument to Soviet WW2 Army in Prague (a part of the old Soviet T-34 tank). Interesting thoughts come to mind...

Who knew? - apparently, Soviet spies came very close to taking out Hitler... if only Adolf would not turn around at this very moment:




Magneto makes his move:




What's this with throwing rifles in the air? -




More emotional discharge:




... and a total embarrassment:




-----

Police Riding in Style

We saw some totally weird and tricked-out police cars in the previous parts of our series - including some pretty powerful "Ferrari" and "Lamborghini". There are many more to show, however - it seems that every big city (at least in China) has some incredible police cars to be proud of:




Size does not matter:



(image via)

Some very well equipped Japanese rescue vehicle:



(image credit: Nicky Chau)

Making do with less... this patrol car still does its duty:



(image via)

And now, have a good look at the beautiful vintage Mercury Montego, 1970 - lovely forms, powerful presence:



(image via)

Russian riot police vehicle "Vityaz" is capable of interesting moves:



(photo by Vitaly V. Kuzmin, via)

If your country (East Germany in this case) can not provide you with Jeeps, modify your "plastic" miniature Trabant:




-----

Interactions with police... can be hilarious sometimes (but mostly, they're not)

This boy's first conflict with the law:




"What did I do wrong, officer?" - "Here, let me explain..." -




Granny with binoculars? Well, maybe she'll spot trouble before the riot police will:



(image via)




Come to daddy -




-----

Military Training All Over the World

New Zealand Army's Maiori Battalion in Egypt - more info:




Russian, Korean and Chinese armies train their soldier in a truly ambitious way... See more extreme exercises on this page (scroll down).




Winter brings its own "no pain - no gain" exercise variety: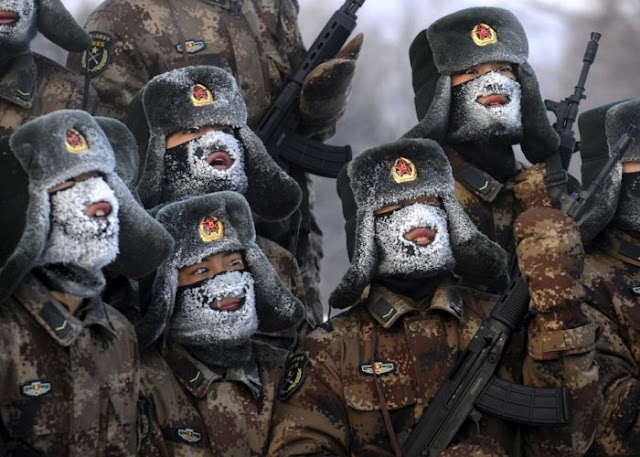 Snow is not really necessary:




Some serious jumping is required from these women (my guess is, this is the Iranian Military):



(original unknown)

-----

Men with the Golden Guns

This shiny gold arsenal was confiscated from the Mexican drug lords:




Here is the price list for a Kalashnikov Rifle (a worthy weapon in every respect) - in sheep and goats:




Shooting from AK-47 rifle can be problematic sometimes:




What actually happened here, is that this guy was lucky not to get injured: one of the bullets was replaced with an explosive on purpose (by people who sold it to him).

Just whatever you do, don't let a monkey sleep on your gun:




All known sources are cited inside the article. Other images came from sites and emails which did not credit the original photographers. Please help us to find out this information, so that we could include the credits.

CONTINUE TO "AWESOME MILITARY PICS"! ->

Don't miss previous parts: Life in the Military, Awesome Military and Police Can Be Intense (Funny Pics).

READ ALL "FUNNY PICS" CATEGORY ->