Link
Scroll down for today's pictures & links.

Mini-Tank "Shredder"

Segway on steroids? Power Rangers dream come true? It's the Dual Tracked (Military Purpose) Vehicle DTV "Shredder" - part robotic workhorse, part extreme terrain-shredding "board". Made by the Canadian company BPG-Werks, this must be an ultimate blast to ride:



Link

Today's pictures & links:

Awesome "Koncept Kar": Audi One

These sculpted, post-modern, post-art-deco forms were designed by Jason Battersby as a Cultural Achievement Award degree project. More photos and info here:




"The Audi One concept is designed to symbolize and promote human achievement, becoming a timeless sculpture each deserving recipient gets to keep and drive for one year at a time. Recipients would have their names engraved on one of the expressive fins... Inspired by timeless objects, the goal is to design an exterior that will stand the test of time, becoming a futuristic statement."



(images credit: Jason Battersby)

------------

No wonder she has a headache...

It's hard not to be intimidated by such a huge camera (probably emitting a lot of heat, too) - and concentrate on your role. This picture was taken during the shooting of "Romance of the High Seas" in 1947:



(image via)

------------

(Only Natural) Use of Water



(original unknown)

------------

A Very Pretty Secretary

Maybe she just does not want to be distracted.



(image via)

Similar idea, taken into space ("Spaceways", 1952 UK series):



(image via)

------------

Mixed fresh links for today:

Military Field Rations Compared (click on various countries) - [fascinating]
Were You Born on the Wrong Continent? - [overworked]
Unique Uses of Morse Code in Design - [gadgets]
The Crowded Galaxy: Soft Drinks Industry - [cool infographic]
Paint Drops in Water, by Mark Mawson - [wow art]
The Most Extreme Diets - [weird]
Making Torsos... from the weirdest materials - [weird]
Shredding the Sink! - [extreme birds], via
Another Sick, Frantic Rally Ride - [wow video]
Rough, Rough Seas (Flying Furniture), info - [wow videos]
Silly Goalkeepers, more - [fun videos]
Very Beautiful & Relaxing: Tokyo Time-Lapse - [wow video]

------------

High Seas: 100 Foot High "Rogue Waves"

This picture supposedly shows a Polar trader bound for Valdez in winter 2001:



(image via)

Watch the video with more info - here. Also see our series "Ships vs. Big Waves" Part 1, Part 2, Part 3

------------

Folk Art: Vladimir Putin



(image via)

To get a glimpse of the very strange and probably secret code writing of Vladimir Putin, click here

------------

Tubby Wink



(original unknown)

------------

All you need to know about your house' plumbing



(image via)

Certainly better than this one:




------------

Extreme Grumpiness



(originals unknown)

------------

Dramatic Cats

Custer's Last Stand? -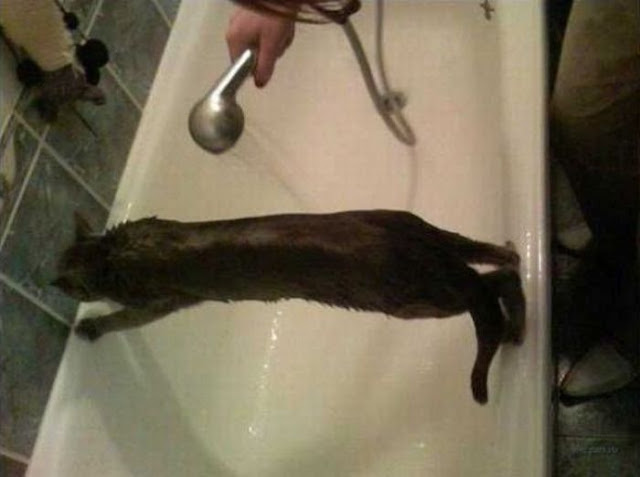 (originals unknown)

------------

Animated Zipper

This is how a zipper works (something you always wanted to know, but were afraid to ask):



(image via)


READ THE PREVIOUS ISSUE ->